Caveat Emptor
Below are advertisements received from both members and non-members who wish to sell a classic car. But, please note, caveat emptor, the club and its officers accept no responsibility for the quality, performance or legality of these cars or the actions of the sellers. It is important that you make your own enquiries and make your own judgement about whether to purchase or not.
1974 Triumph Stag Mk2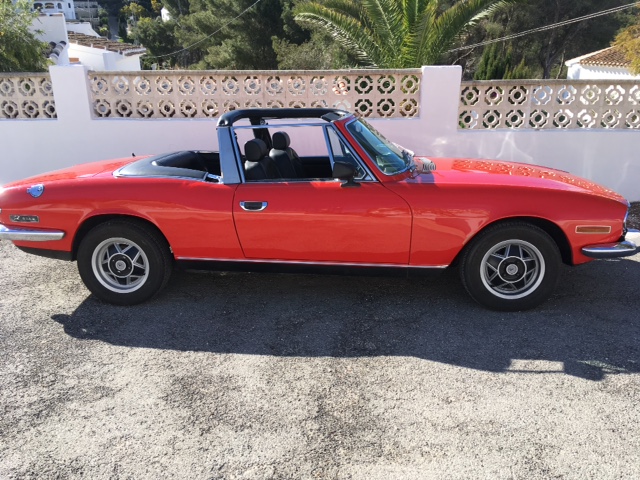 Triumph Stag Mk2 model, from 1974, with 93.000 miles, manual with overdrive, hard and soft tops, everything in great shape. The engine was overhauled in the past as I could see when I put new, best quality timing chains last year. I think there's no part in the car without recent supervision; new radiator and fan coupling (it never gets hot), new stainless steel exhaust, new brake master cylinder, distributor without points, new best quality upholstery (3000€ spent on it) and many more things. I keep my records and pictures about everything done on it. I will include some spares, a complete engine from the same period and a differential, both in good shape, the engine possibly running. The car is in Javea and can be seen and examined by appointment.
17.000€   14.000€   REDUCED
Contact: Jose Maria Hinarejos
Phone: 609 655 182 (and WhatsApp)
Email: hinarejos_jos@yahoo.es
Want to advertise on this page?
For the benefit of our members, we are happy to advertise your classic car for sale. There is a small charge for non-members. Please email Trevor Kirkham: trevor.kirkham@marinaaltaccc.com