Classic Cars For Sale

Caveat Emptor
Below are advertisements received from both members and non-members who wish to sell their classic car. But, please note, caveat emptor, the club and its officers accept no responsibility for the quality, performance or legality of these cars or the actions of the sellers. It is important that you make your own enquiries and make your own judgement about whether to purchase or not.
Want to advertise on this page?
For the benefit of our members, we are happy to advertise classic cars for sale. There is a small charge for non-members. Please email Trevor Kirkham: trevor.kirkham@marinaaltaccc.com
1993 VW Golf 1 Cabrio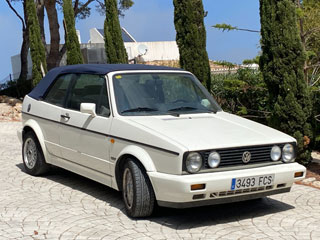 VW type 155 – 2H2 72kw/98hp - motor 1800cc - 5 gears. White original colour with new blue roof and blue leather seats. First registration in Spain on 15/04/1993.
The operation of the roof is electric and the vehicle is originally equipped with servo steering. No accidents. Overall the vehicle is in excellent and original condition with no areas of rust. Very reliable VW car and engine. ITV Inspection: favourable on 16/08/2022 .
10.000€ or close offer
Contact: Philippe Hersleven
Mobile: +32 475 713 104
Email: ph1@outlook.be
1962 Innocenti Spider 950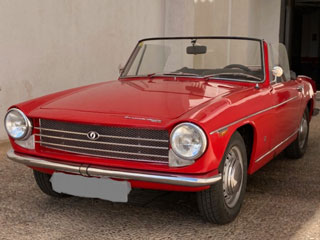 The Innocenti 950 Spider is based on a Mk1 Austin Healey Sprite mechanicals designed by Ghia and manufactured by OSI/Lambretta in Turin under licence from BMC. Only 4700 were made making this increasingly rare.
This is a 1962 model on Spanish regional plates, I have owned it 3 years and have gone through it bumper to bumper with a partial rebuild including a respray. It is as close to original as I could keep it. Upgrades include Electric fuel pump, Electronic ignition and Single 1 1/2inch SU keeping it reliable. It starts on the button from cold and has taken part in several recent club events always getting us home! It has recently passed its ITV for 2023 with no reports.
Lack of garage space and looking for a new project means she needs a new home hopefully in the club.
14.900€ or close offer
Contact: Simon Garfath
Mobile: +34 615 613 633
1994 XJS 4.0 Celebration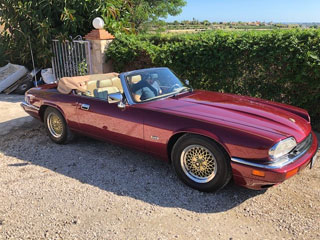 Jaguar XJS Celebration Cabrio 2+2 4.0 litre straight six.
Registered July 1994. Automatic. 115,000 miles. 222 CV. Spanish registered, ITV to September 2022.
The final XJS version. Immaculate metallic red paintwork with gold pinstripe, cream leather seats (front re trimmed with red piping, rears original). Everything operates as it should, Parrot Bluetooth included and wind deflector, battery cut off switch. Full set of wire wheels and guards available at additional cost. Available to view at My Car, Ondara. Seen frequently at club meetings.
29.995€
Contact: David Farr
Mobile: +34 676 223 778
Email: davefarr49@orange.fr
1992 Chrysler LeBaron GTC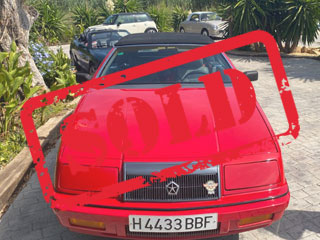 SOLD Vehicle was first registered in Germany. Imported to Spain in 2006. No accidents reported. Overall the vehicle is in excellent and original condition with no areas of superficial rust. In original Radiant Red with a recent part respray. Interior and seats are original. 95,525km. Full Service record since owned in Spain (January 2013).
Price reduced for quick sale
5,999€ 3.750€ SOLD
Contact: Phil Aston
Email: philaston@gmail.com
1972 Triumph TR6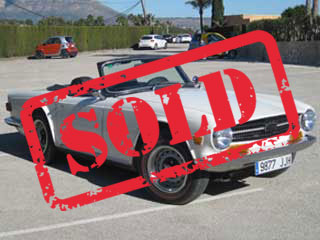 SOLD Imported from California, USA into UK/Spain in 2009, with matching numbers. The car was imported into the UK initially in 2009 and then into Spain in 2015.
With many upgrades and in Old English White which is the original colour.
Although an everyday runner, the car has been mainly stored in Alicante. This car would make an excellent project to upgrade the car to an excellent condition would not cost an excessive amount. Please have the car inspected to assess the cost.
14,900€ SOLD
Contact: Jeff Ogden
Mobile: +34 634 311 278
Email: jsogden1948@icloud.com