Caveat Emptor
Below are advertisements received from both members and non-members who wish to sell a classic car. But, please note, caveat emptor, the club and its officers accept no responsibility for the quality, performance or legality of these cars or the actions of the sellers. It is important that you make your own enquiries and make your own judgement about whether to purchase or not.
1972 Triumph TR6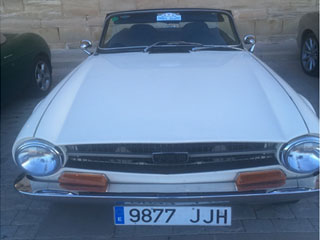 Imported from San Diego USA in 2009, imported into Spain 2015. Professional maintained with no expense being spared. ITV to Oct 2022.
19.900€
Contact: Jeff Ogden
Mobile:
+34 634 311 278
Email:
jsogden1948@icloud.com
Want to advertise on this page?
For the benefit of our members, we are happy to advertise your classic car for sale. There is a small charge for non-members. Please email Trevor Kirkham: trevor.kirkham@marinaaltaccc.com