Caveat Emptor
Below are advertisements received from both members and non-members who wish to sell a classic car. But, please note, caveat emptor, the club and its officers accept no responsibility for the quality, performance or legality of these cars or the actions of the sellers. It is important that you make your own enquiries and make your own judgement about whether to purchase or not.
1987 Porsche Carrera 3.2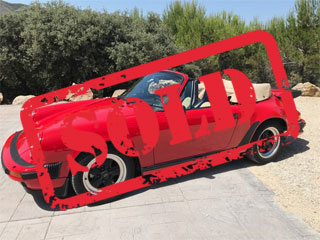 SOLD 1987 Porsche 911 Carrera 3.2 231bhp. This was originally a German registered car. It was imported to the UK in 1998 where it stayed until 2013 when I bought it and brought it over to Spain. It is on a Spanish historic registration, which means it's Suma exempt and ITV'd only every 3 years.
It has had much care and attention. The engine was completely rebuilt just 6,000 kms ago by the classic Porsche Specialists Talleres Astur in Alicante. At the same time a new clutch was fitted, a stainless steel exhaust rear box (that alone was 1000€). All new shockers and bushes. The brakes have been rebuilt and it was retrimmed just after I bought it. This car has won its class in the MACCC Concours 3 times. Bills for everything and a complete service history from new.
The car is currently with Automart Benissa (tel 96 573 3311) where you can also find more photos. After 8 fabulous years I am afraid it has to go to make way for my Aston Martin DB9. This car has to be seen.
59,950€ SOLD
Contact: Rob Cooper
Email: rob.cooper50@gmail.com
Tel: +34 680 797 350
Want to advertise on this page?
For the benefit of our members, we are happy to advertise your classic car for sale. There is a small charge for non-members. Please email Trevor Kirkham: trevor.kirkham@marinaaltaccc.com